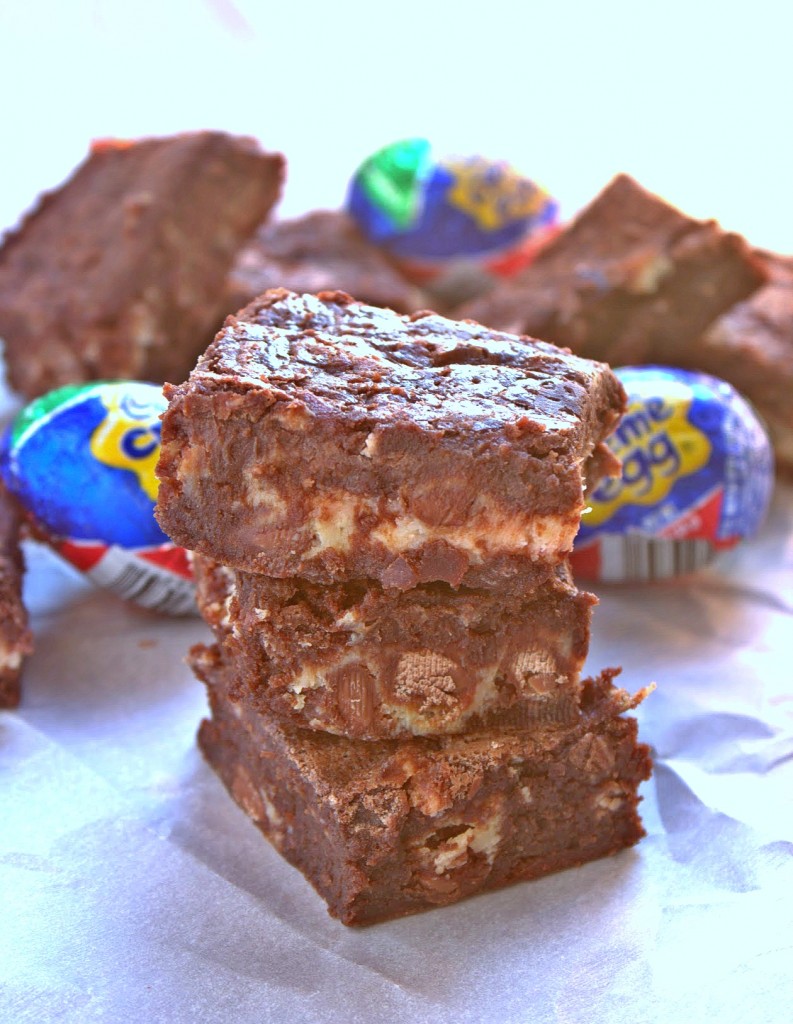 Oooof – that's a mouthful.  I tried to consolidate, but I didn't want you to miss out on the fact that this brownie recipe uses BOTH Cadbury Cream Eggs AND Cadbury Mini Eggs.  Oh and they're gluten free* – you're welcome G-F gfs!
For St. Patrick's Day, I made the same version of these with Andes Mints, to make a minty, cheesecakey, flourless brownie (for my Gluten Free Girlfriends!) and man were they good!  But since the Easter Cadbury Egg Season is winding down, I decided that I need to utilize them in as many recipes as possible! There was that Cadbury Mini Egg Cake Dip – did you make that yet? No? Start the car. Now. Go.
So alas, these Cadbury Cream Egg Flourless Chocolate Brownies with Cabury Mini Egg Cheesecake Swirl (take a breath) were born!
If you've ever had a flourless chocolate cake, you know the dense richness of the texture.  Well, these brownies are no different – they're dense – and rich – and gooey – and sticky.  Your teeth might even get stuck in them! (ha just kidding – kind of)  But it's worth the extra couple strokes of the toothbrush, trust me.
Cadbury Cream Egg Flourless Chocolate Brownies with Cabury Mini Egg Cheesecake Swirl
Ingredients
4 Cabury Cream Eggs*, cut into quarters
11 tablespoons (1 stick + 3 tablespoons) unsalted butter
1/2 cup unsweetened cocoa powder
4 large eggs, lightly beaten
3/4 cup white sugar
1/4 cup brown sugar
1 block (8 oz) Philadelphia Cream Cheese (Gluten Free), softened to room temperature (left out for about 2 hours)
1/4 cup white sugar
1 egg yolk
1 - 10oz bag Cadbury Mini Eggs*, chopped into small pieces

*Please note that there is some speculation online whether Cadbury Mini & Cream eggs are in fact gluten free. The ingredients do not list wheat, but some celiac'ers do have problems with them, so tread with caution. But if you're Celiac and know that these work ok with your system, these brownies are great!
Instructions
Preheat your oven to 350 degrees F. Line an 8"x 8" baking pan with parchment paper and set aside.
In a medium saucepan over LOW heat, melt the cadbury cream egg quarters and the butter together. Once melted, remove from heat and fold in the unsweetened cocoa powder until there are no lumps. Let cool for about 10 minutes.
In the meantime, whisk your eggs in a medium sized mixing bowl. Add the white and brown sugar and whisk again until foamy. Slowly whisk the egg/sugar mixture into the chocolate mixture, whisking constantly until it becomes thicker and brownie battter-like. Pour your brownie batter into the parchment lined baking pan and set aside.
To prepare your cheesecake topping, combine your cream cheese, sugar and egg yolk with an electric mixer on low speed for about 2 minutes, until fully combined. Turn the mixer off and fold in the cadbury mini egg pieces with a spatula.
Take dollops of the cheesecake batter onto the brownie batter. You'll notice that the cheesecake dollops are significantly heavier than the brownie batter so they will sink a little bit, but that is ok!
Once you've dolloped all of your cheesecake batter onto the top of the brownie batter, take a knife through the batter, creating a swirl pattern with the brownie and cheesecake batter. Again, the difference in textures of the two batters will cause the cheesecake to sink a bit into the brownie batter, making them look a little more 'brownieish' than 'cheesecakeish' but again, you will realize this is a-o.k. once you sink your teeth into your first one!
Bake in preheated oven for 30-35 minutes, until the batter in the center is no longer jiggly. Let brownies cool to room temperature and chill in the fridge for at least an hour, up to overnight. Because they're flourless, these brownies are very dense so the longer they chill the better. Cut and serve immediately, or store in the fridge until ready to serve.
http://www.andtheycookedhappilyeverafter.com/2013/03/21/cadbury-cream-egg-flourless-chocolate-brownies-with-cabury-mini-egg-cheesecake-swirl/
Copyright And They Cooked Happily Ever After