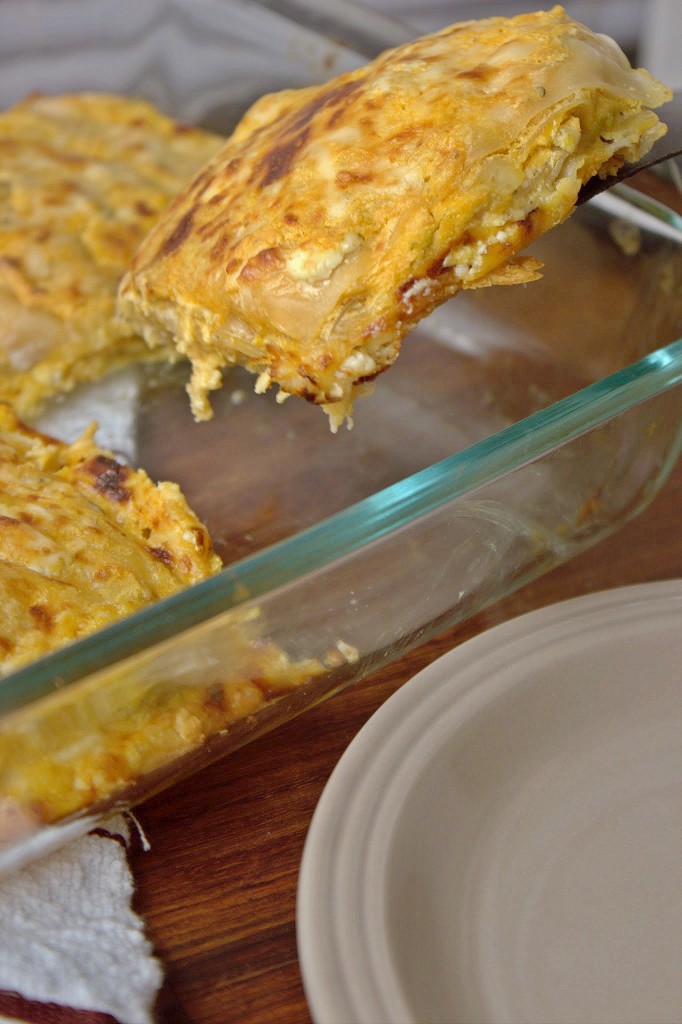 What's that you said? It's been a while since our last Buff Chick recipe and you would like one?
Oh ok fiiiiine – you guys are sooo pushy

Remember those Toasted Buffalo Chicken Raviolis? Mmmm were they good.  Well – I'll be honest, I had some filling left over that I threw in the freezer and I have been anxious ever since to use it in a Buffalo Chicken Lasagna, since the filling was very similar to the ricotta layer of a lasagna.   But I knew that there wasn't going to be enough to make a full sized lasagna.  I thought about making like a teenie tiny one, but we don't really have a teenie tiny lasagna dish, so I was stumped.  How can I make this happen?
Cue The Italian Dish – and their beyond GENIUS idea to make little mini lasagnas out of won ton wrappers!
Traditional lasagna is one of my favorite foods.  But it's kinda messy – there's cheese and sauce and beef and it's ooey and gooey and usually when you cut your piece it falls apart, but it doesn't matter because it tastes so good.
That's the best part of these though – no knife needed.  Won ton wrappers are in essence sheets of pasta cut up into perfect sized little squares that I'm learning can be used for so many things, including these adorable, personal sized lasagna squares.
And they're buffalo chicken lasagna squares – so tonight folks, all is right with the world.
A lot of the recipes I found for Buffalo Chicken Lasagna included a red sauce, which I just thought sounded off, mixing tomatoes with buffalo chicken.  So I tried to improvise with a 'sauce' that I thought might compliment the flavors a little better than tomato sauce.
I really had no idea what to expect, but the end result was buffalo chicken magic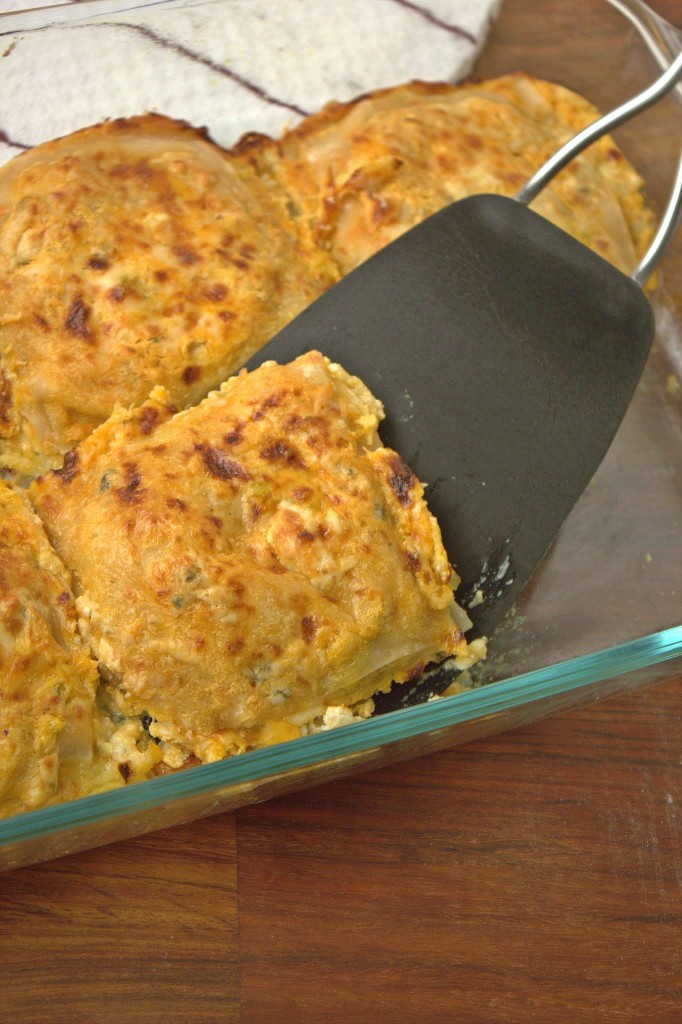 Buffalo Chicken Lasagna Squares
Ingredients
72 won ton wrappers (2 packages)

For the buffalo chicken ricotta Filling

1 -15oz container part skim ricotta cheese
1 egg, lightly beaten
1 cup crumbled blue cheese
1 cup cooked chicken (I used boneless chicken tenders, but shredded rotisserie would work or ground chicken as well)
2 stalks of celery, chopped small
2 small garlic cloves, minced
1 bunch of scallions, minced
salt & pepper to taste
1/2 cup Frank's hot sauce

For the Sauce

1 & 1/3 cups light ranch dressing
1/2 cup Franks hot sauce
1 & 1/3 cups crumbled blue cheese
1 block (8oz) 1/3 less fat cream cheese

Cheese Blend

2 cups cheddar jack cheese blend, shredded
1 cup crumbled blue cheese
Instructions
Preheat your oven to 350 degrees F.
To Prepare your buffalo chicken ricotta filling:
In a small mixing bowl, combine the egg and ricotta cheese together until mixed. Then fold in the blue cheese crumbles and set aside.
In a medium saucepan, saute your cooked chicken, celery, garlic and scallions for about 3 minutes. Season lightly with salt and pepper. After 3 minutes, add in the Frank's hot sauce and stir for another 1-2 minutes.
Add the hot chicken/veggie mixture to the ricotta/blue cheese and stir until combined.
To prepare your sauce:
In a small saucepan over low-medium heat, combine the ranch dressing, hot sauce, blue cheese and cream cheese, stirring continuously until smooth (about 5 minutes - it's ok if you still have a few lumps).
To prepare your lasagna squares:
In individual ramekins, or 2 -13x9" baking dishes, layer your lasagna squares as follows:
- won ton
- 1 tablespoon buffalo chicken/ricotta mixture, spread evenly over the won ton
- won ton
- 1 tablespoon sauce and sprinkle of cheese blend, spread evenly over the won ton
Repeat 2 times so that the cheese blend is on top (this means you will have 6 won tons total)
Cover lasagna squares with foil. Cook covered for twenty minutes. Remove from oven - uncover - then cook for another 10 minutes until cheese browns on the top (I actually threw it in the broiler on low for about 3 minutes to brown the cheese on top).
Serve hot!
Notes:
*I was a little worried to over stack the lasagna squares initially, so I only used 6 won tons which yielded a smaller stacked lasagna. However, if you like your lasagna a little thicker, I think it would be o.k. to continue the stacking process, eventually using 12 won tons per square vs. just 6. This would yield 6 tall squares.
© And They Cooked Happily Ever After
http://www.andtheycookedhappilyeverafter.com/2013/03/07/buffalo-chicken-lasagna-squares/
Copyright And They Cooked Happily Ever After