"There is no Canada like French Canada, it's ze best Canada in ze land and the other Canada is hardly Canada…"
Now I don't want to rub in the fact that we managed to miss out on the biggest snowstorm in Boston since the blizzard of 78′ because we are away for our anniversary, but we did. And honestly, we were a little sad! Felt a Little left out of all the snow bonding!
Quebec City may just be one of my favorite places in the world.  Dave and I first traveled here back in 2010 – we wanted to go away somewhere, without having to get on a plane, but still feel like we were away.  And Quebec City is the perfect place for that (well, that is if you don't mind dressing up like Randy from the Christmas Story every time you walk out the door – lil' chilly up here).  But we liked it so much that we decided it was the perfect place to come back to to celebrate our one year anniversary.
There is one thing from Canada though that is beyond genius – a gastronomic wonder – POUTINE. The traditional recipe is simple and delicious – French fries smothered in beef gravy and cheese curds.  Go ahead – I just undid the top button of my pants too.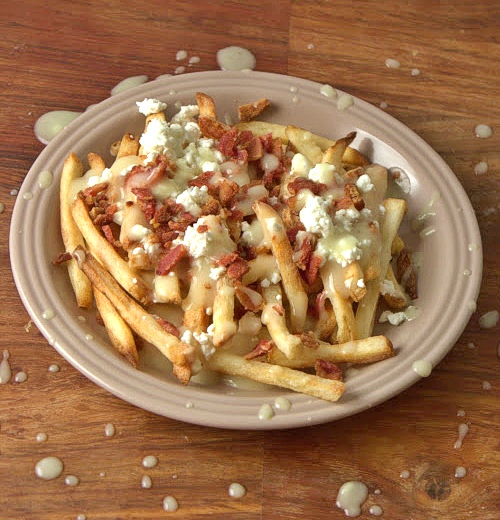 So I did some research online and gave the classical poutine a spin of my own, swapping out a lighter gravy for the beef gravy and using goat cheese instead of traditional cheese curds – oh and bacon – there's always room for bacon.  We gave it a whirl at home before we left – ya know, to get in the spirit – and ooh baby yes – jackpot.  It's simple to make (especially if you cheated like I did and used frozen fries).  But frozen or not, how can the combination of three of life's most delicious things be bad?  It can't.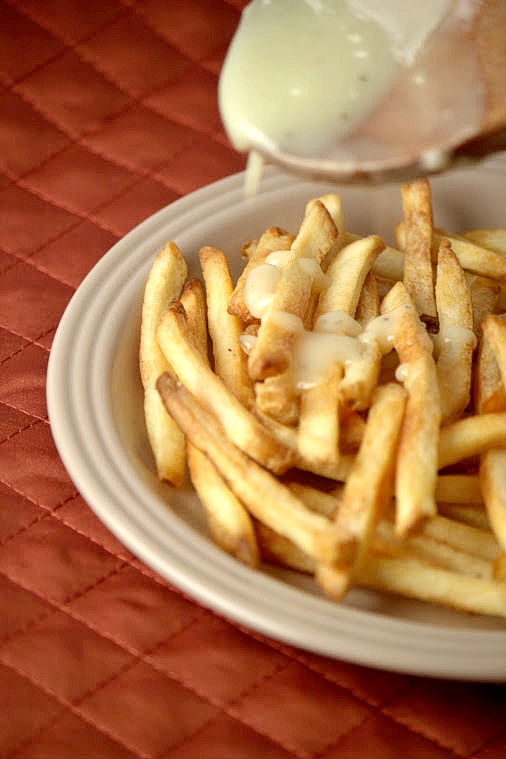 Poutine, Plain and Simple
Ingredients
1 bag of your frozen french fry of choice (we used the Alexia brand)
2 tablespoons unsalted butter
2 tablespoons all-purpose flour
2 tablespoons crumbled goat cheese + 4 additional tablespoons for topping
2 cups chicken stock
4 slices of bacon, cooked and crumbled
Instructions
Preheat your oven to 425 degrees. Once preheated, bake your fries for 30-35 minutes, flipping once half way through.
Melt your butter in a saucepan over medium heat. Once butter has melted, add your flour and 2 tablespoons of goat cheese and stir until incorporated. Continue to stir the mixture for 2-3 minutes.
After 2-3 minutes, add your chicken stock to the flour/butter/cheese mixture. Reduce heat to low and stir occasionally, allowing the mixture to thicken and become 'gravy-like'.
Once your gravy has thickened, place your baked fries on a large plate - sprinkle the remaining 4 tablespoons of goat cheese over the fries, then pour the gravy on top, and then lastly, sprinkle the bacon crumbles. Serve hot. (trust me - it won't last long enough to get cold!)
*feel free to tweak the amount of cheese and bacon to your liking
© And They Cooked Happily Ever After
http://www.andtheycookedhappilyeverafter.com/2013/02/11/poutine-plain-and-simple/
Copyright And They Cooked Happily Ever After